WEEKLY BUSINESS ROUNDUP - 27th August 2023 to 2nd September 2023
September 04, 2023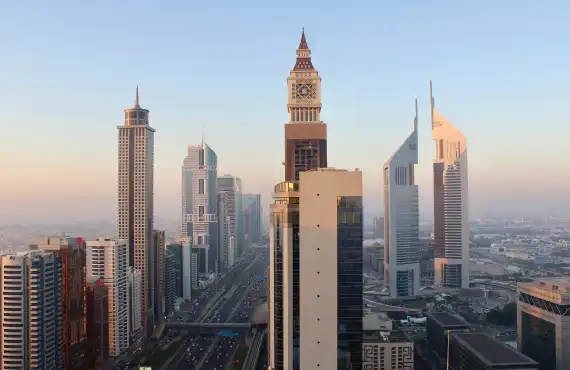 UAE non-oil foreign trade hits all-time high of AED1.239 trillion in H1 2023
As per Ministry of Economy released figures, UAE's non-oil foreign trade reached a record AED1.239 trillion in H1 2023, marking 14.4% growth compared to the same period in 2022 – and 3% more than H2 2022. These figures reinforce the continued upward momentum of the nation's foreign trade which has recorded quarter-on-quarter growth since 2020. UAE's non-oil export set new records as it rose 22% with the top 10 global trading partners in 2023 highlighting the country's balanced trading policy.
Completing the longest Arab space mission ever, Emirati astronaut Sultan AlNeyadi returned to earth today
Pioneering Emirati astronaut Sultan Al Neyadi returned to Earth on September 4th 2023 - after spending 184 days aboard the International Space Station – by being part of the longest ever Arab space mission. Sultan Al Neyadi's space travel opened the gateway for vital scientific experiments in the last 6 months as he traversed the globe at a speed of about 17,500 mph (28,000 km/h) and an altitude of roughly 250 miles (400km) to share the wonders of space with the Arab world.
Global space economy wields potential for strategic investments worth billions
It is estimated that the global space sector will be worth more than US$1 trillion in the next few years. As per the Space Report by the Space Foundation, the space economy grew 8% in 2022, with its value totalling US$546 billion, and is projected to grow by 41% in the next five years. The space economy is estimated to hit the US$800 billion mark within 5 years..
Globally, renewables helped save US$520bn fuel costs in 2022
86% (187 gigawatts) of all the newly commissioned renewable capacity in 2022 had lower costs than fossil fuel-fired electricity. According to the Renewable Power Generation Costs in 2022, published by the International Renewable Energy Agency (IRENA) the renewable power added in 2022 reduced the fuel bill of the electricity sector worldwide. New capacity added since 2000 reduced the electricity sector fuel bill in 2022 by at least US$520 billion. In addition to economic benefits, renewables reduce CO2 emissions and local air pollutants.
UAE and New Zealand initiate preliminary discussions on CEPA
UAE's Minister of State for Foreign Trade, Dr. Thani bin Ahmed Al Zeyoudi received Damien O'Connor, New Zealand's Minister of Trade and Export Growth to explore areas of economic collaboration and pursue a Comprehensive Economic Partnership Agreement. Both countries are exploring opportunities to enhance cooperation across key sectors like agriculture, renewable energy, and healthcare. Non-oil trade between UAE and New Zealand reached US$805 million in 2022 – marking 7% growth compared to 2021.
UAE's GDP forecast to stand at 3.5% in 2023 rising to 3.9% in 2024
Industry leaders in the UAE's financial landscape forecast the country's Gross domestic Product (GDP) expected to stand at 3.5% in 2023 surging to 3.9% in 2024. Supported by robust demands for oil exports and energy investments, UAE is expecting 4.5% expansion for its non-energy economy in 2023.
DIFC announces proposed amendments to select legislations
The Dubai International Financial Centre proposed enactment of amendments to the Employment Law, Trust Law, Foundations Law, and Operating Law. The proposed amendments ensure DIFC laws remain aligned with global best practices and OECD requirements. The proposed regulations have been posted for a 30-day public consultation period with the deadline for providing comments ending on 29 September 2023.
UAE's CEPA with Turkey and Indonesia comes into force
Two Comprehensive Economic Partnership Agreements (CEPA) came into force on 1st September 2023 involving UAE – Turkiye & UAE – Indonesia. The UAE-Türkiye CEPA and the UAE-Indonesia CEPA will now remove or reduce tariffs on a vast array of goods, eliminate unnecessary barriers to trade, and establish pathways for investment into priority sectors such as logistics, energy, food production, fintech, e-commerce, as well as travel and tourism.
National banks give AED 745.6 billion in credit facilities to business and industrial sector in H1 2023
As per the Central Bank of UAE, credit facilities by national banks to the business and industrial sector rose by AED 28.5 billion in the first half of 2023. The two sectors saw a 4% rise in cumulative credit balance to AED 745.6 billion at the end of June 2023 from AED 717.1 billion at the end of December 2022.
Starting November 2023, Abu Dhabi International Airport to welcome travellers to new terminal
Abu Dhabi Airports announced the opening of its new terminal at Abu Dhabi International Airport. Known as 'Terminal A' it is scheduled to start operations in early November 2023. The opening of this terminal wields potential to transform the aviation ecosystem locally and strengthen Abu Dhabi's position as a preferred destination of choice for travellers, traders, and investors.
Expo Centre Sharjah marks 63% increase in events with 18 exhibitions slated for Q4 2023
Highlighting its busy events calendar, Expo Centre Sharjah is geared up to host a range of local, regional, and international events. With 18 economic, trade, and cultural exhibitions set to take place, there is a 63% jump in events held compared to the same period in 2022 – when 11 events were hosted. These figures reflect Sharjah's growing position as a regional and international hub for exhibitions and conferences.