WEEKLY BUSINESS ROUNDUP - 10th September 2023 to 18th September 2023
September 18, 2023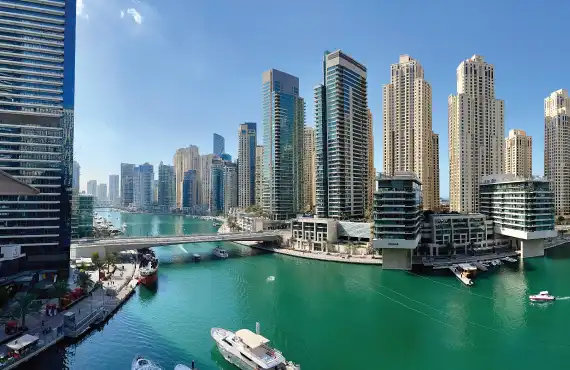 ILO research reveals world 'well off track' to achieve SDG 8
An analysis by the International Labour Organisation (ILO) revealed "the world is well off track on nearly two-thirds of the SDG 8 indicators of progress," and that "the international community today is almost as far from reaching the targets of SDG 8 as it was in 2015". Sustainable Development Goal (SDG) 8 aims to "Promote sustained, inclusive and sustainable economic growth, full and productive employment and decent work for all".
UAE progresses in countering money laundering, terrorist financing in H1 2023
The UAE completed a comprehensive review of AML/CFT progress made in H1 2023 which reflects significant improvement. The UAE continued to implement the National Action Plan and National AML/CTF Strategy and is making efforts to combat illicit financing and preserve the integrity of the global financial system.
UAE world leader in solar energy
As per a report published by the Energy Institute Statistical Review of World Energy, UAE is a world leader in solar energy use. With three of the planet's largest solar sites, the UAE is the 6th highest per capita consumer of solar energy in the world. UAE's leading renewable energy company in collaboration with key government and private sector partners has been instrumental in increasing the company 's solar capacity.
UAE's financial wealth to grow by 5.5% annually, reaching USD 1.3 trillion by 2027
The UAE's financial wealth is estimated to experience a robust Compound Annual Growth Rate (CAGR) of 5.5% in new wealth, rising from USD 1 trillion to USD 1.3 trillion from 2022 to 2027. As per a recent report, equities and investment funds in the UAE make up the largest asset class at 58% of total personal wealth in 2022, while bonds are expected to grow the fastest with a CAGR of 8.4% between 2022 – 2027 and life insurance & pensions are set to become the third largest asset class by 2027. In 2022, approximately 25% of the UAE's wealth, originated from Ultra High Net Worth (UHNW) individuals worth more than USD 100 million.
UAE banks' investments grow 18.8% to AED 580 billion
As per recent Central Bank of UAE's statistics, investments of banks operating in the UAE reached AED580 billion at the end of July 2023 – a historic high. Data revealed that investments of banks operating in the country increased by 18.8% on an annual basis, from AED487.7 billion in July 2022. On a monthly basis, investments of banks increased by 0.91%, from AED574.3 billion in June 2023. Bonds held until maturity accounted for the largest share of banks' investments, reaching AED 266.8 billion at the end of July 2023, 1.3% increase from the previous month, when it was AED 263.3 billion.
UAE supports GCC trade, industry, investment integration and non-oil growth
Key officials from UAE were part of the delegation participating in the 65th GCC Trade Cooperation Committee meeting, the 51st GCC Industrial Cooperation Committee meeting, and the sixth meeting of the GCC Ministerial Committee for Standardization. UAE asserted its keenness on enhancing cooperation and driving development and economic competitiveness of GCC economies especially in areas of trade, industry, investment, and non-oil sector growth.
UAE's Minister of Economy meets investors from China, Hong Kong
Abdullah bin Touq Al Marri, UAE's Minister of Economy met investors from China and Hong Kong to discuss ways of enhancing their economic relations and finding new opportunities to deepen the strategic partnership between the two nations. China and UAE share a strong strategic partnership which could be further leveraged in areas of economic opportunities.
Dubai International Chamber hosts event to drive global expansion of local business
Dubai International Chamber hosted the second event in its Global Expansion Series, which aims to support the international growth of local companies and promote their expansion into global markets. Decision makers and business leaders from 70+ companies attended the event to gain insights on international support services provided by the chamber both in Dubai and through its international offices in areas of business matching, financial payment gateway options, and insurance solutions.
Abu Dhabi cements position as a destination of choice with ADGM's record breaking numbers for H1 2023
Recent statistics reveal several investment firms and hedge funds setting up within ADGM. With a total of 102 asset managers operating in ADGM and managing 128 funds Abu Dhabi's leading position in the asset management sector has been reinforced. ADGM's assets under management (AUM) highlighted a year-on-year record growth of 35 percent as of June 2023.
'Invest in Sharjah' takes part in Belt and Road Summit
Sharjah FDI Office (Invest in Sharjah) participated in the Belt and Road Summit in Hong Kong. Invest in Sharjah highlighted the emirate's favourable investment climate offering potential investors key economic opportunities across areas of diverse interest. Sharjah is home to over 1225 Chinese companies and trade volume has exceeded AED 47 million, with AED 15.1 million between Hong Kong and Sharjah.